FIGURE A:
completed chua circuit board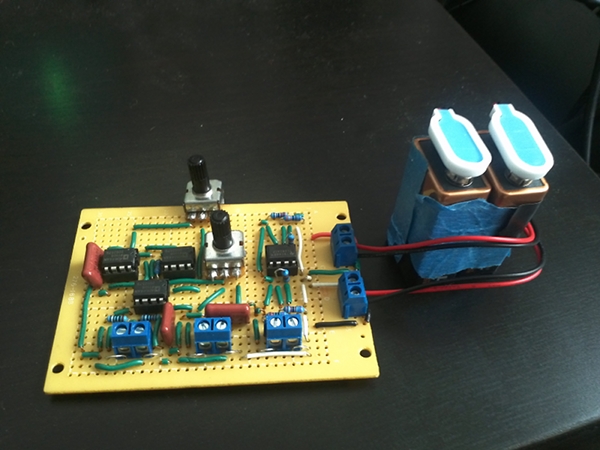 FIGURE B:
synchronized master and slave chua circuits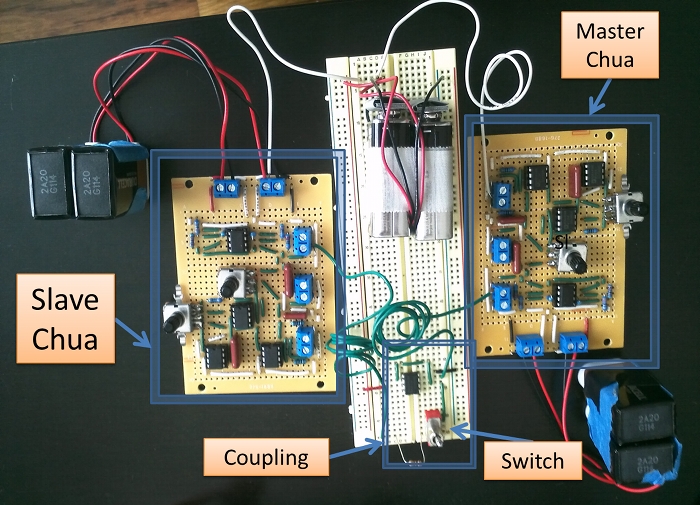 FIGURE C:
schematic of master/slave coupling of synchronized circuits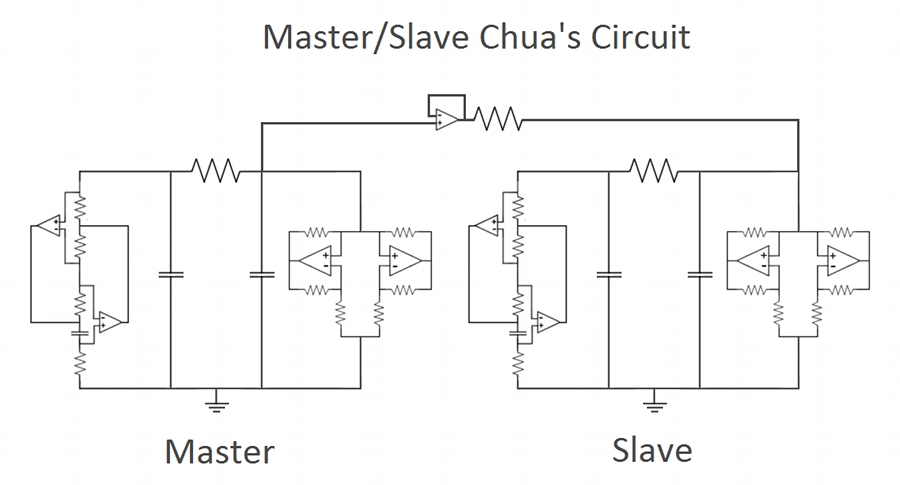 FIGURE D:
schematic of bi-directional coupling of synchronized circuits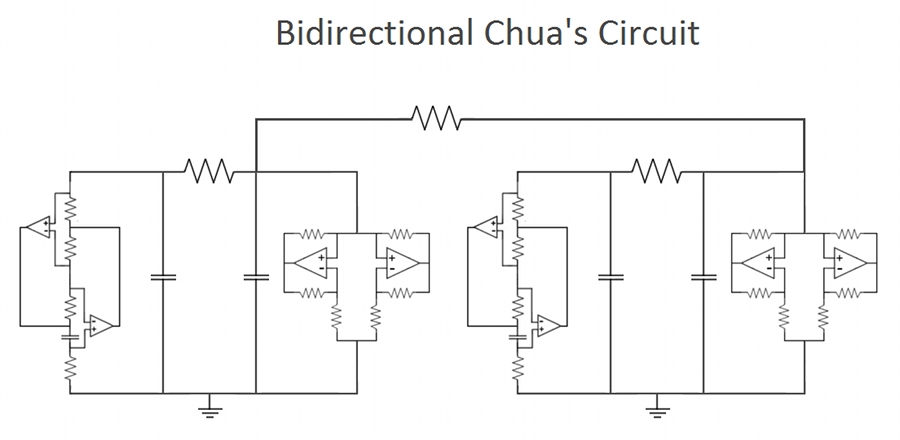 Coupling and Synchronization
of
Chua's Circuits
By now you should have a working circuit that, more or less, looks like Figure A. You should also have a fairly good idea about how the circuit works and a basic understanding of the signal output.
Now we can take it to the next level–synchronization of two or more circuits. By now we know that a chaotic circuit has three states (three signals). One of the beauties of a chaotic circuit is that, if left alone, two circuits will never have the three signals be exactly the same at any point in time (due to the property of 'sensitivity to initial conditions'). In other words, two circuits will never be naturally in sync. But, with a little more circuitry, we can synchronize the two chaotic circuits and the signals will match.
Synchronized chaotic circuits are frequently used in real applications. To accomplish basic synchronization of two circuits, we must set up our two circuits with an intermediate coupling circuit as in Figures C and D and realized in Figure B. There are many ways to couple a system for synchronization, the two most popular are bidirectional, and Master/Slave (unidirectional).
We will be demonstrating the Master/Slave approach. In a Master/Slave there is only one Master Chua circuit and the rest are Slaves. The Master Chua is unaffected by the Slave circuits or the coupling and acts autonomously. The Slave Chua circuits use the coupling circuitry to synchronize to the Master's signal. In summary, the Slaves synchronize to the Master Chua, but the Master Chua is unaffected.
I have also included a switch to conveniently turn synchronization on or off. In Figure E, you can see that I have connected the two circuits up to 3 oscilloscopes. The lower two are displaing the double scrolls from their repsective circuits and the top oscilliscope showsthe Z signal compared on the X-Y scale between the Master and Slave circuits. (Since the coupling is made on the X signal, seeing that the Z signal is synchronized is enough to let us know that the X and Y signals are synchronized also).
How can we tell if two signals are the same (that is, synchronized)? The Z-Master signal is plotted against the Z-slave signal on an X-Y grid. If the two signals are the same you will see a nice 45-degree angle as show in Figure E.
In Figure F and Figure G you can see what the circuits look like when synchronized and when synchronization is turned off. You can easily see that the double scrolls from the synchronized circuits look very similar in contrast to the same circuits when unsynchronized.